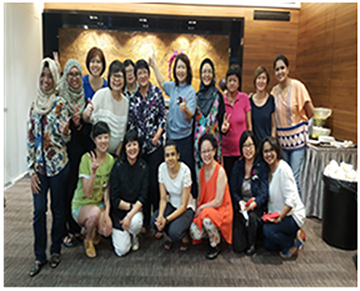 The Association of Diabetes Educators Singapore (ADES) is a non-profit organisation comprising of a team of trained diabetes nurse educators who are dedicated to provide teaching and counselling on diabetes management to healthcare professionals, people with diabetes, their family members and any individual who is interested in diabetes..
Founded in 1997 with only 16 nurses as members, the Association had played a pivotal role in providing educational platforms for the informal training in diabetes education for nurses in Singapore. It has grown in strength with members representing various healthcare institutions and organisations. The Association is also grateful to these senior endocrinologists, the late Dr. John Tambyah, A/Prof Thai Ah Chuan and Dr. Tan Yeang Tin for their pioneering support in the formation of this Association.
One of the Association's milestones was the Certified Diabetes Educator programme with the Endocrine and Metabolic Society of Singapore (EMSS) in 2002. The certification programme is intended to uphold the standard of excellence in diabetes education. This group of diabetes educators is known as Certified Diabetes Educators (CDE) recognised by Association of Diabetes Educator Singapore (ADES) and Endocrine Metabolic Society of Singapore (EMSS).
Another milestone was in 2012 when ADES became a member of International Diabetes Federation (IDF) with alliance of over 200 diabetes associations over 160 countries. Through this affiliation, the Association networks with global and regional diabetes educators and experts to uphold the standard of diabetes management and improve the lives of people with diabetes.
Our Vision
Improving the lives of people with diabetes through education
Our Mission
Promoting optimal health and well-being of people with diabetes through effective education and counselling
Our Values
Integrity – We will uphold our ethical code, maintain a high standard of personal conduct and embed our values in all that our organization does
Compassion – We will act with empathy and without prejudice, appreciating the personal impact of diabetes and the necessity for action
Humility – We will give credit to others, never forgetting that all we do is for the benefit of people with diabetes; we will accept and learn from our errors.